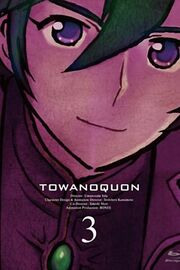 Eternal Crime
(Mugen no Renza)
Also known as The Complicity of Dreams, this is the third episode of Towa no Quon. A Strange Journey through the mind leads Quon to ancient Japan. A new Attractor is discovered, and while this dream state becomes more dangerous, so does the situation for their new would be ally. In this episode, Shun's past is revealed, and the fact that he, too, is an Attractor. Shun then breaks into his larva state and is saved by Quon.
Ad blocker interference detected!
Wikia is a free-to-use site that makes money from advertising. We have a modified experience for viewers using ad blockers

Wikia is not accessible if you've made further modifications. Remove the custom ad blocker rule(s) and the page will load as expected.