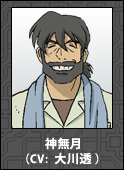 Kannazuki (神無月) Voiced by: Tōru Ōkawa
He works in the garden always caring for the plants. He doesn't have any powers. His family were protecting the Tokitsu Namida, which is a crystal which sealed Quon's younger brother, Towa, and protecting Quon himself.
His full name is Seiji Kannzuki (神無月星志)
His English voice actor is David Wald.
Ad blocker interference detected!
Wikia is a free-to-use site that makes money from advertising. We have a modified experience for viewers using ad blockers

Wikia is not accessible if you've made further modifications. Remove the custom ad blocker rule(s) and the page will load as expected.