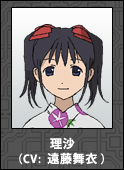 Shun 's (Epsilon) sister who died several years ago. At first, Epsilon thought the Larvae killed her and their parents. However, the truth is that she killed their parents when she transformed into her Larvae stage. He lost control of his powers and accidentally killed his sister. After finding the truth, he still blames himself for not seeing what he did and for the responsibility of Lisa's death.
Her English voice actor is Monica Rial , who also voices Tei .
Same kimono design as Black Cat character Saya
Ad blocker interference detected!
Wikia is a free-to-use site that makes money from advertising. We have a modified experience for viewers using ad blockers

Wikia is not accessible if you've made further modifications. Remove the custom ad blocker rule(s) and the page will load as expected.