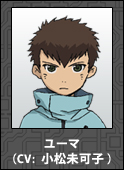 Yūma (ユーマ)
Voiced by: Mikako Komatsu
A young boy with defensive capabilities to his body and releasing compact energy balls to attack with. Thanks to Quon he finally came to understand his powers.
His full name is Yuma Kazui (数井勇馬).
 His English voice actor is Ty Doran.
Ad blocker interference detected!
Wikia is a free-to-use site that makes money from advertising. We have a modified experience for viewers using ad blockers

Wikia is not accessible if you've made further modifications. Remove the custom ad blocker rule(s) and the page will load as expected.